MT SKORPION , Oil Product Tanker / Bunker Vessel. Transfer to international trade.
January – September 2018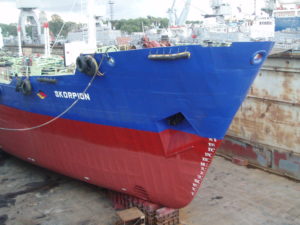 Mt SKORPION well known on domestic trade as bunker vessel was transferred to international trade to shipowner satisfaction. KMS in collaboration with Recognized Organizations RINA and RMRS as well as with Estonian Flag Authority performed
huge work to bring the vessel in compliance with existing requirements of MARPOL and SOLAS allows to receive
Class Statutory Certificates. The Company Safety Management System for international voyages was successfully
implemented and crew passed appropriated training on board with further Flag Authority ISM, ISPS and MLC audits.

MT ASTERDEA (ex. IZMAIL), Oil Product Tanker. Recovering and renovation in cooperation with RINA
August 2014 – December 2014
KMS successfully managed a project to recommission an oil product tanker which had been laid-up for a long time and withdrawn from Class. Under KMS supervision the ship's machinery and deck equipment were overhauled, hull construction steel renewed in accordance with UTM. All appropriated Class entry procedures were carried out in cooperation with RINA and Class certification successfully passed. The vessel put in operation to the full satisfaction of the shipowner in December 2014.
MV BOTNICA, Icebreaker/Multipurpose Offshore Support Vessel (DP, Dive, ROV, Construction support etc.)
September 2013 – December 2013
Offshore Support Vessels (OSV) are a state of the art vessels equipped with the most modern machinery, equipment and systems that require a serious competent crew trained to the highest standards.
KMS developed an OSV International Safety Management and International Ship and Port Security Codes systems, Safety Management System, Ship Security Assessment and Ship Security Plan. The following documentation was provided and explained to staff and crew at both the client's company office and on board the vessel:
Company Management Manual;
Company Operating Manual;
Fleet Operating Manual;
Safe Working & Environmental Manual;
Crew Management Manual;
Offshore Support Vessel (OSV) Operations Manual;
Company Forms Manual.
KMS being a ship manager of other offshore vessels utilized its experience and practice to develop high-quality product to serve all our clients.
MV Caspian Supporter , Oil Recovery, Fire Fighter, stand by vessel Modernization and renovation in cooperation with DNV
November 2011 – January 2013
KMS successfully managed and supervised a project for renovating and modernizing the MV Caspian Supporter at Rigas Ship Yard. The vessel was upgraded to meet Class Requirements for offshore vessels. The new ship's equipment installed onboard included a boiler, hydraulic power pack, auxiliary engines and main switchboard. Most of all ship's systems were redesigned, approved by classification society and installed to the shipowner's satisfaction. Oil Recovery and Fire Fighting systems and equipment were renovated and improved. All of the vessel's machinery including the main engine, passed a major overhauling and sea trial under KMS direct supervision. MV Caspian Supporter received DNV Class Certificates in January 2013.